NZSailGP signs global wealth management firm Alvarium as major new partner
by Natalie Fortier Jul 29 7:20 PM PDT
July 30, 2022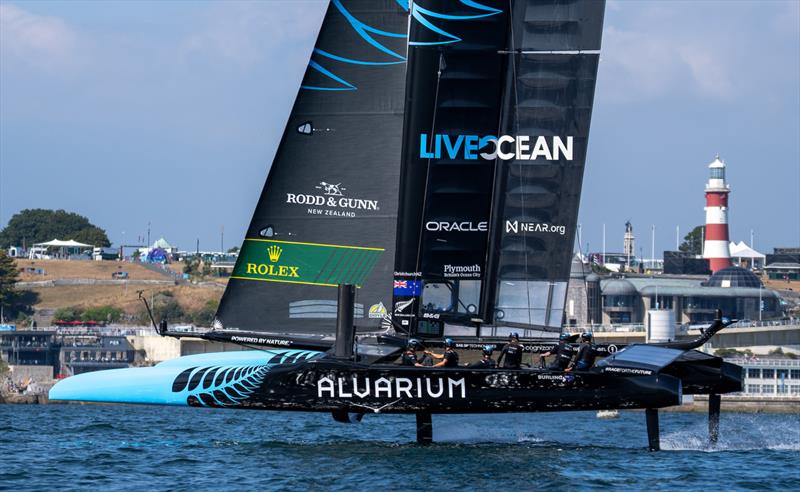 The New Zealand SailGP team co-managed by Peter Burling and Blair Tuke pass Smeaton Tower during a practice session ahead of the British Sailing Grand Prix | Plymouth in Plymouth, England. July 29, 2022 © Ian Roman/SailGP

The New Zealand SailGP team will land in British waters with a major new partner on board this weekend, welcoming global wealth management firm Alvarium to the family ahead of the British Sailing Grand Prix in Plymouth.
Through this partnership, Alvarium will become the Official Wealth Management Partner of the New Zealand SailGP Team and the New Zealand Sailing Grand Prix.
Alvarium Investments NZ is part of the Alvarium wealth management platform which employs over 200 people in 14 offices around the world. With strong environmental, social and governance (ESG) credentials, Alvarium is a global leader in responsible investing and owner of award-winning New Zealand sustainable investment manager Pathfinder.
An international company with a strong national presence in Auckland and Christchurch, Alvarium is well aligned with SailGP's presence in New Zealand as well as the league's footprint and expansion in markets around the world.
Alvarium marks four partner announcements for the New Zealand SailGP team in 2022, with today's news following the appointment of Rodd & Gunn as Official Merchandise Partner in May. The team also hosted Zhik and ITM as partners earlier in the year.
Team New Zealand SailGP co-CEO Peter Burling said: "It is incredibly exciting to welcome Alvarium as a major partner to Team New Zealand SailGP and the New Zealand Sailing Grand Prix. ", did he declare.
"We share many synergies with Alvarium and throughout our discussions we have really appreciated and valued their stance on socially and environmentally responsible investing. They are an industry leader in this area and it is great to have them on board."
Boldly showcasing the Alvarium brand on the hull of New Zealand's F50 catamaran, Amokura, during race trials today, Burling said: "It's great to have that momentum behind the team, especially as we are heading to our home event in March next year."
Brett Gamble, director of Alvarium Investments NZ says for his team the feeling is mutual.
"The New Zealand SailGP team is well recognized and respected as a goal-oriented sporting team and it really resonated with Alvarium's own values."
"We care deeply about building a healthier future and admire the way SailGP uses sport as a catalyst to change attitudes and behaviors around environmental and social issues. This is something we are extremely excited to support," Gamble said.
"Having witnessed the growth of the league in New Zealand and around the world, we look forward to experiencing the excitement of SailGP on our shores in March next year."

About Alvarium Investments
Alvarium Investments is an independent investment firm and multi-family office providing tailored solutions for families, foundations and institutions across the Americas, Europe and Asia-Pacific. Alvarium has a team of approximately 200 employees worldwide, advising on assets across three service lines: Wealth Management and Advisory, Co-Investments and Merchant Banking.
Learn more about avariuminvestments.com

About Sail GP
SailGP races for a better future, championing a world powered by nature. The world's most thrilling water race, SailGP, features national teams competing in short, intense races at iconic stadium-style venues around the world, leading to the grand finale – and the top prize. US$1 million sail. The high-tech, high-speed action features sailing's top athletes racing in identical F50 hydrofoil catamarans, flying at speeds approaching 55 knots.
One of the fastest growing sports and entertainment properties in the world, SailGP ushers in a new era in professional sports where purpose takes priority alongside performance, paving the way for more inclusive sport. The league is underpinned by a culture of innovation and advancement pushing the extremes of technology and sustainability. Visit SailGP.com for more information.