Case study
Global IFSEC
Scott Castle, a residential property management company, highlighted how digital fire registers have helped improve business efficiency across its portfolio of multi-occupancy sites.
The company moved from "cumbersome spreadsheets" that had to be manually compiled from weekly inspections of each individual site to Tio's cloud-based logbook. According to the company, this has significantly reduced administration time for the Scott Castle team and helped ensure the maintenance of a comprehensive audit trail for each property to keep residents safe.
Rob Scott, Director of Scott Castle, commented: "I don't think it would be an overstatement to say that Tio has changed the way we work, and we would feel lost without him. You are still doing what is necessary to properly manage and monitor each building, but the old paper logbook system was totally unsuited to the needs of modern property management, and that's before we even mention the new legal requirements for keep a log of all fires. Shares.
"The digital fire log is not only easier to update and access, it also includes project and asset management tools that can be used for all building-related activities, not just fires. For example, you can use it to record the maintenance and testing of the air conditioning system or elevators. It also has digital document storage, which means all relevant documents can be scanned and stored in one place where everyone can find them.
Tio's digital fire logbook is designed to replace a range of paper logbooks and comes preconfigured to bring fire, safety and security topics together in one place. It is said to be quick to install and as easy as paper to use, solves a multitude of problems and radically improves safety, relationships and compliance for all parties including building occupier, service provider services, risk assessor, installer, commissioning engineers and emergency services.
"We worked closely with Rob and the team at Scott Castle throughout the development of the digital fire log, so they were among the first to appreciate the huge step forward it represents," said Jason Hill, sales manager for Tio Fire Safety. "Traditional paper logbooks haven't really changed in decades and new legislation means they're no longer fit for purpose. The Digital Fire Log is a dynamic, cloud-based resource accessible from any internet-connected device, ensuring 100% compliance and protecting information integrity during any fire. »
Tio's Logbook includes a compliance task manager that automatically schedules and tracks tasks for service providers, building occupants and risk assessors, a customizable guidance module that helps staff complete jobs, related asset logs and maintenance, deviations, false alarms and activation tracking, custom task creator and fire visitor log. All users get a performance and compliance dashboard, enabling monitoring and management from a single site to large portfolios of properties and, as all aspects of fire and security are covered by Tio , multiple logbooks are not required.
Mr Scott added: 'We actually had a fire in one of our flats on Christmas Day which thankfully wasn't serious but could have been. I was called to the scene of the incident and the firefighter at the scene asked to see the fire hazard assessment and building safety records. The information was viewed online using Tio and demonstrated the importance of recording data and being compliant. Tio that day served his purpose flawlessly.
Secure your spot at FIREX International 2022
May 17-19, 2022, ExCeL London
Reconnect in person with the fire safety community at FIREX International 2022. You'll find hundreds of leading active and passive fire industry exhibitors showcasing all the latest protection, prevention and detection solutions fires. Plus, network with thousands of like-minded peers and professionals, while attending dedicated conference sessions covering legislative, technology and building safety updates from leading industry figures.
Make life safety a right, not a privilege — get your ticket today.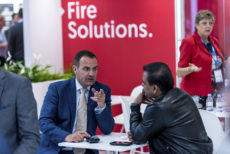 Related Topics